Tel: 020 7228 8187
T Bone Steak
Sirloin Steak (special trim)
Rump Steak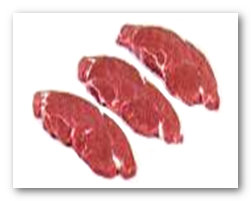 Tornados
Topside Veal
Rib Eye / Cube Roll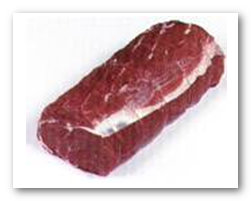 Fore Rib (boneless)
Fore Rib (carvery cut)
Beef and Veal
Beef is a good source of minerals, such as zinc, selenium, phosphorus and iron, and B vitamins. Red meat is the most significant dietary source of carnitine and, like any other meat (pork, fish, veal, lamb etc.), is a source of creatine.
Veal is the meat of young cattle (calves), as opposed to beef from older cattle. Though veal can be produced from a calf of both sex and any breed, most veal comes from young dairy-herd males.
Best for Roasting: Sirloin joint (not steaks), Rib joints, Flank and Fillet
Best for Slow Roasting: Top Side and Rump
Best for Braising and Pot Roasting: Flank, Brisket, Topside, Rump and Silverside.
Best for Boiling: Silverside and Brisket.
Best for Grilling and Frying: Fillet Steak, Sirloin Steak, Rump Steak, Porterhouse Steak and T-bone.
Best for Stewing: Flank, Chuck and Shin
Braising Steak
This steak is usually suitable for pie fillings, casseroles and stews.
Pot Roasting
Brisket is the best part for pot roast beef. It comes from the shoulder and rib area of the animal. It can be sold on the bone or boned, rolled and tied. Either way, brisket is best for slow cooking - either pot roasting or braising.
Stewing Steak
The best quality stewing steak comes from the chuck. It is not suitable for grilling or frying, but can be used in many casseroles and stews.
Steak
Fillet steak is one of the best cuts of beef. It comes from just below the ribs of the sirloin from the loin of the animal. A sign of whether a fillet steak is good for grilling is to look at the specks of fat running through the lean meat. The specks make sure that the steak doesn't dry out when grilling or frying.
Leg
The leg needs very long and very slow cooking. A leg of beef nearly always refers to the hind leg only. Great for casseroles and stews.
Rib of Beef
The forerib is a very large roasting joint that is either cooked on the bone or boned and rolled.
Prime Rib of Beef (or Wing)
This cut comes from between the fore ribs and sirloin in the loin area. It is a very expensive cut but is extremely good for roasting. A good creamy yellow fat layer will help keep the joint moist.