Tel: 020 7228 8187
Cumberland Sausages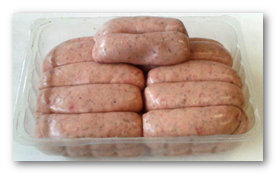 Pork Links
Pork and Leek
Sausages
A sausage is a food made from ground meat and often salt, herbs, and spices. The word sausage is derived from Old French saussiche, from the Latin word salsus, meaning salted. Cooked sausages are made with fresh meats, and then fully cooked. They are either eaten immediately after cooking or must be refrigerated.
British and Irish sausages are normally made from raw pork or beef mixed with a variety of herbs and spices. Many have recipes which are traditionally associated with particular regions (for example Cumberland sausages). They are traditionally cooked by frying, grilling or roasting prior to eating.
Due to their habit of often exploding due to shrinkage of the tight skin during cooking, they are commonly referred to as bangers, particularly when served with the most common accompaniment of mashed potatoes to form a bi-national dish known as bangers and mash.